LoveIs.org... Your Good News Network
Sharing Inspiration and Creating Harmony
Appreciating God's Gift of Life... Sharing His love for each person and care in each moment...
YOU ARE INVITED!

Upcoming Events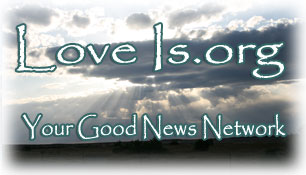 List and Details of
Upcoming Events Coming Soon!

Churches, Youth Groups, non-profits, and businesses...
Please send us your events!
You can even upload images or your event flyer/poster!
Join the Discussions!
at the Good News Network Forums

In any of the forum topics, you can have notifications sent to your email.
Exemplary Examples
My Favorite Teacher...
Angels in our Midst...

about the teachers and angels in YOUR life.
Share Your Good News
Answered Prayers ~ Blessings ~ Epiphanies ~ Gifts ~ Praise/Thanksgiving ~ Realizations ~ Revelations
Share Your Words & Experiences
Affirmations ~ Laughter/Humor ~ Lessons Learned ~ Personal Testimonies ~ Spiritual Experiences ~ Virtues Observed ~ Witnessed a Miracle
Artistic Vision Contest

Pick the Best, Share Yours

Upload YOUR ORIGINAL art, photo or video.
Join the community and comment, vote for your favorite.
Contest #1 Topic "Life"
Entries due 8/31/19.

Please remember this is a family-oriented site! Any submissions not "rated-G" will be removed.
Do You Daydream?

Ponder... Meditate... Think on...

How often do we "take time" to converse with God? To really think? To absorb meaning? To discern truth and intent? To see the beauty? To allow our imagination to "run wild"? To examine our thoughts, words, actions, how they effect others and ourselves? To recognize others' virtues and value? To dream, hope? To hear with our heart?
Random Scripture Verses on Love
What If...

What if "eternal" means continuous, never-ending, forever...
As in always was, is, and will be from now on...
What? That IS what eternal means?
Then what did Jesus mean when He said:
"And as Moses lifted up the serpent in the wilderness, even so must the Son of Man be lifted up; that whoever believes may in Him have eternal life. For God so loved the world, that He gave His only begotten Son, that whoever believes in Him should not perish, but have eternal life. For God did not send the Son into the world to judge the world, but that the world should be saved through Him."
Hmmmm... "may" ... "should not perish"... "saved"...
Hmmmm...