Love Is... Pro-Life and Pro-Choice
Pro-Life and Pro-Choice
Yes, Love is BOTH
God's respect for man's right to choose (have free will) is so great that He allows sin (error) and the consequences of sickness and death.
"For if by the transgression of the one (Adam and Eve), death reigned through the one, much more those who receive the abundance of grace and of the gift of righteousness will reign in life through the One Jesus Christ."
Paul in Romans 6:17
God's will/purpose for man, however, IS LIFE! Abundant, victorious, peaceful life; free from fear, sorrow, harm, and death. Throughout The Holy Bible, is His message of Choose Life.
"Hear, O Isreal! The Lord our God, the Lord is One! And you shall love the Lord your God with all your heart and with all your soul and with all your might."
--Deuteronomy 6:4-5.
It's Your call...
Life and Prosperity or Death and Adversity
"See, I have set before you today life and prosperity and death and adversity; in that I command you today to love the Lord your God, to walk in His ways and to keep His commandments and His statutes and His judgments, that you may live and multiply and that the Lord your God may bless you in the land where you are entering to possess it."
--Deuteronomy 30:15-16
"The Golden Rule" or "Law of Love"
"... 'What commandment is the foremost of all?' Jesus answered, 'The foremost is, "Hear, O Israel! The Lord our God is one Lord; and you shall love the Lord your God with all your heart, and with all your soul, and with all your mind, and with all your strength." The second is this, "You shall love your neighbor as yourself." There is no other commandment greater than these.'"
--Jesus in Mark 12:29-31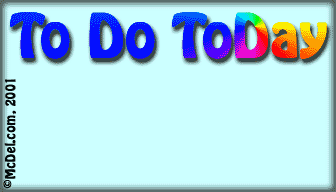 How do we really know what the law of love is?
In John 14:5-6, Jesus answered the question: "...how do we know the way?" Jesus said to him "I am the way, and the truth, and the life; no one comes to the Father, but through Me."
In John 14 and 15, Jesus is speaking to his disciples and says in 14:15, "If you love Me, you will keep My commandments." Then in 15:12-13, He says "This is my commandment, that you love one another, just as I have loved you. Greater love has no one than this, that one lay down his life for his friends."
In Galatians 6:2, Paul encourages believers to "Bear one another's burdens and thus fulfill the law of Christ."
In Romans 8:2, Paul declares "For the law of the Spirit of life in Christ Jesus has set you free from the law of sin and of death."
In James 1:25, James says "But one who looks intently at the perfect law, the law of liberty, and abides by it, not having become a forgetful hearer but an effectual doer, this man shall be blessed in what he does."
Then, in James 2:8, James states "If, however you are fulfilling the royal law, according to the Scripture, 'You shall love your neighbor as yourself,' you are doing well."
God is Pro-Choice and Pro-Life
"For God so loved the world, that He gave His only begotten Son that whoever believes in Him should not perish, but have eternal life. For God did not send the Son into the world to judge the world, but that the world should be saved through Him."
--Jesus in John 3:16-17
And this is eternal life...
(click to read more)
"And this is eternal life, that they may know Thee, the only True God, and Jesus Christ whom Thou has sent."
--Jesus in John 17:3
"And I know that His commandment is eternal life; therefore, the things that I speak, I speak just as the Father has told me."
--Jesus in John 12:50
"Jesus therefore was saying to those Jews who had believed him, 'If you abide in my word, then you are truly disciples of Mine; and you shall know the truth, and the truth shall make you free.'"
--Jesus in John 8:31-32
"And God said to Moses, 'I AM WHO I AM'; and He said, 'Thus you shall say to the sons of Israel, "I AM has sent me to you."'"
--God in Exodus 3:14
You have the ability to choose, to believe...
"I urge you therefore, brethren, by the mercies of God to present your bodies a living and holy sacrifice, acceptable (well-pleasing) to God, which is your spiritual (rational) service of worship. And do not be conformed to this world (age), but be transformed by the renewing of your mind, that you may prove what the will of God is, that which is good and acceptable and perfect."
--Paul in Romans 12:1-2